Our Company
Founded in 2006, Shanghai Haoyuan Chemexpress Co., Ltd. ("ChemExpress") focuses on providing small molecule and new modalities CDMO services for both pharmaceutical and biotech clients. Our comprehensive CRO & CDMO platform is engaged in the research and development, manufacturing and supply of regulatory starting materials, novel building blocks, intermediates, reference compounds, APIs and drug products. We are a one-stop service platform to support our client's projects from early drug discovery, process development to commercialization.
Over the past 17 years, we have established a state-of-the-art QC/QA system aligning with ICH guidelines for pharmaceutical manufacturing. We provide our clients with high-quality products and CMC services across the entire life-cycle of drug development.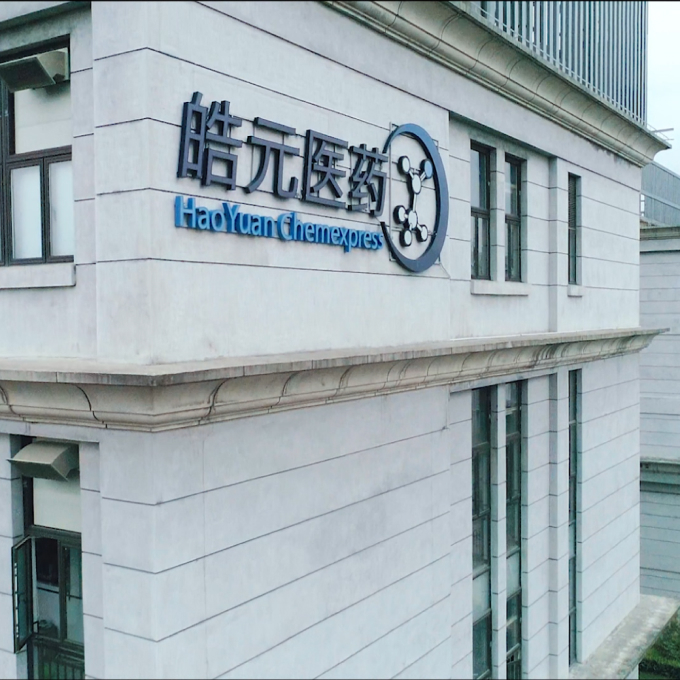 R&D Centers and CDMO Sites
Our History
Established the Brand——MedChemExpress

Process Chemistry R&D

ADC Drug-Linker

Anhui Ma'anshan cGMP Manufacturing Site Under Construction

Anhui R&D Centre

IPO Listed SSE Star (2021)
Stock Code:688131.SH

HP GMP Line

Acquisition of 2Y-Chem & 2Y-Biopharma (Formulation)

Acquisition of Zeda for API/Intermediates Manufacturing
Our Culture
Our vision is to facilitate the research and development of new therapeutics by our partners with quality products and services based on scientific innovation and technological optimization. By carrying out this vision at every level of our organization, we will be recognized by our employees, customers and shareholders as the best company in the field of life science services, resulting in delivering valuable therapeutics to the patient at a faster rate and lower cost.

We have been our customers' partner of choice by providing affordable and optimized solutions in the development of new therapeutics, as well as lifecycle assistance with high quality assurance based on innovative technology platforms. We help to bring pharmaceutical and health care products to the world that improve lives and deliver outstanding value to our customers and shareholders.
Leadership
CTO/Sr. VP

Head of CDMO BU

Dr. Chen graduated from Lanzhou University with a bachelor's degree and a master's degree in organic chemistry, and later obtained a doctorate in organic chemistry from Brandeis University. From 2003 to 2005, he worked as a postdoctoral researcher in the laboratory of Eric N. Jacobsen at Harvard University. Since 2005, he has been working in Merck & Co., New Jersey, USA, as the chief researcher, engaged in the R&D of small molecule drug synthesis processes and high-throughput experiments/catalytic screening while managing outsourced process development and production of API. Achieved 2019 US Environmental Protection Agency(EPA) Green Chemistry Challenge Award, Dr. Chen has published a total of 28 papers and applied for 11 invention patents.

Read More

Dr. Li graduated from the Department of Chemistry of the University of Hong Kong in 2006 with a Ph.D. From 2007 to October 2009, he served as a senior postdoctoral researcher at the National Research Center for Biological and Chemical Technology of the Singapore Agency for Scientific Research. He completed the synthesis of new anti-biological compound libraries, and cooperated with pharmaceutical companies GSK and Novartis to screen active drug lead compounds. From November 2009 to 2013, he was the chief scientist of Novartis China R&D Center in Switzerland, responsible for the design and development of the chemical synthesis process of API for preclinical and clinical of new drugs.

Read More

Sr.VP/GM of Manufacturing Division

Dr. Yang graduated from Lanzhou University in 2008 with a Ph.D. After graduation, he entered the research institute of Qilu Pharmaceutical Co., Ltd., engaged in the development of innovative drugs and the process R&D and declaration of generic drugs. He has led the R&D declaration of 2 first-class new drugs and 16 generic drugs, of which the anti-tumor project TAS102 became the first project to be declared in China. In August 2018, he joined Zhejiang Huahai Pharmaceutical Group Xunqiao Branch as the deputy technical director.

Read More

CQO/Sr. VP

GM of Ma'anshan Site

Mr. Sheng has worked in well-known pharmaceutical companies such as Changzhou Watson, TEVA, Proton, Pharmablock and WuXi AppTec. He has served as quality director, operation director, general manager and vice president. He has nearly 30 years experience of engineering construction, production and operation, quality management, EHS management, drug registration application, etc.

Read More